PRFC School Challenge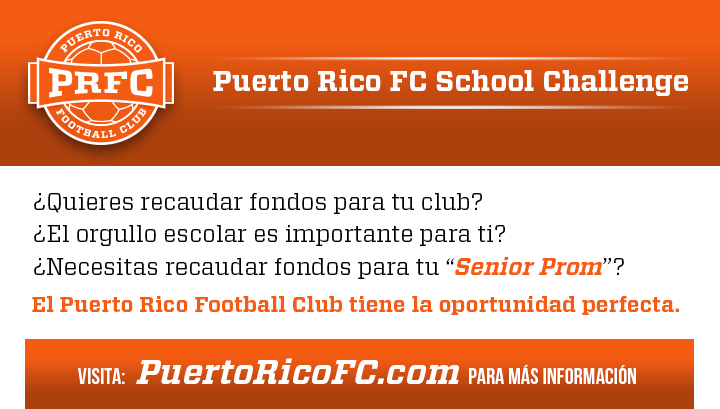 Puerto Rico FC School Challenge
Does your organization want to fundraise for a cause? Is school pride important? Are you in need to raise funds for senior prom? Puerto Rico Football Club has the perfect opportunity for you. We present the 'Puerto Rico FC School Challenge'.
For more information contact us at grodriguez@puertoricofc.com or call 787-722-PRFC (7732)
What: A competition designed as a fundraising opportunity for schools, organizations, and student classes.
How: By coming to our games as a group, your school/organization is eligible to raise funds by rebate (starting at $2) for each ticket sold and win a PRFC grand prize.
When: You can go to to any of our home games to accumulate tickets towards the Grand Prize and continue to raise funds.
Aug. 20th
Sept. 3rd, Sept. 7th, Sept. 10th, Sept. 17th, Sept. 28th
Oct. 8th, Oct. 29th
Rules:
- Each school must have a dedicated representative.
- Representative must sell tickets via consignment.
- To be eligible for the 1st and random prize, school must sell min. of 100 tickets.
- School with highest attendance throughout the season wins 1st place.
- Schools with at least 100 tickets sold are eligible to win the random prize.
Prizes:
1st place
$750 for your cause.
PRFC school appearance.
Rebate of $2 for each ticket sold.
Global Prize chosen at random
$500 for your cause.
Rebate of $2 for each ticket sold.